Uniplas Piping System - Underground Drainage Pipes

The Underground Drainage Pipes commonly known as the "Sewer" Pipes, are highly suitable for all underground usages.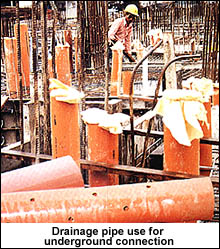 Available from 4" to 12" diameter, these pipes are laid in the ground as sewer or drainage connection, subsoil drainage for fields, parks and golf courses.
They are produced in golden brown colour.
The pipes are joined either by solvent cement welding or integrated rubber ring joint. This allows for soil movement and minor deflection during installation.
Perforations on pipes is available on request.
Telecommunication Cable Laying
Under this range, the 4" pipe is recommended by the telecommunication authorities for use in the ducting of telephone and electrical cables.
uPVC Pipes are chosen as they provide good protection to the cables and their di-electric properties. In addition, they have the ability to resist corrosion, ease in handling, storage and installation.
These pipes are available in grey colour and complete with a separate coupling.
uPVC Pipes for underground Drainage Application SS272: 1983 corresponding to BS4660 BS5481 AS1260

Nominal
Size
Mean
Outside
Diameter
(mm)
(min)
Wall
Thickness
(mm)
20ft
Container
Load
Approx.Qty
(Lens)
Inches
mm
4
6
8
10
12

110
160
200
250
315

110.0
160.0
200.0
250.0
315.0
110.0
160.0
200.0
250.0
315.0

3.2
4.0
4.9
6.1
7.7
3.6
4.5
6.0
7.5
9.4
451
210
132
72
49