Tooling & Mold Making Services - Battery Case Mold
Crate Mold | Fitting Mold | Battery Case Mold | Industrial Pail Mold | Thin Wall Mold
Another of Singa Plastics' area of specialisation in Mold Fabrication is that of the Battery Case Mold. With vast experience, we are able to handle most types of battery case design. A few highlights of our battery case molds include: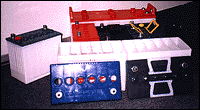 Fully hot runner system
User friendliness
Easy Start Up
100% Automatic Ejection
Easy Maintenance
Made to various standard such as DIN, JIS and so on.
One of Singa Plastics area of specialisation in Mold Fabricating is that of the Pipe Fittings Molds. Because of our vast expertise in this field, we can cater to and for all types of pipe fittings. With our technical know-how, we can provide:
All types of pipes fittings
Mold Development
Mold Manufacturing
Equipment
Turn-key Installations
Technical Training